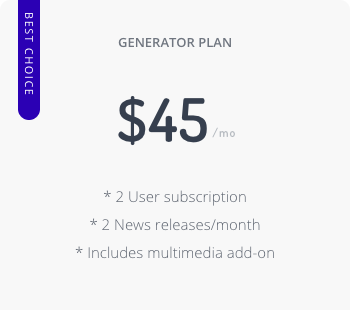 Generator plan – monthly subscription
$45.00 Ex GST / month
NewzEngine [text + media] release distribution plan
* Price above is ex-GST
* 2 User subscription
* 2 News releases/month
* Includes images/Attachments
---
NEWZENGINE RECOMMENDATION: We recommend this plan for clients who wish to generate news-media attention to their business, their organisation, up-coming events, their special interest and innovative news.
This plan is perfect for clients who intend to distribute two text-based releases per month, but who also wish to illustrate that news with an image or images that are authorised for submission to news media outlets.
Minimum plan duration = 3 months. Please note: you will be billed the monthly charge each month for a three month term. At the conclusion of the three month term, you will be invited to opt-in for another three month term, or choose a full year subscription.