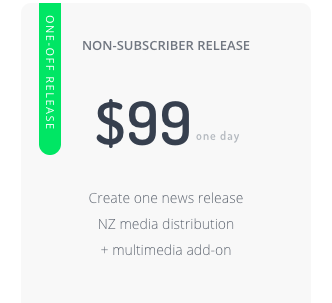 Non-Subscriber One-Off release + multimedia add-on
$99.00 Ex GST for 1 day
One day access for non-subscribers to NewzEngine's One-off Release and NZ media distribution platform + multimedia add-on.
---
NEWZENGINE RECOMMENDATION: We recommend this plan for spokespersons, communication professionals, company/organisation representatives, and public relations clients who intend to create and distribute one news release with multimedia included.
Minimum plan duration = 1 day. Please note: you will be billed once. This provides you access to NewzEngine's release and distribution platform for one day.
We strongly recommend that you consider purchasing one of our monthly subscriptions should you need to create and distribute more than one release over the next three months.